Selection of Poems by Cassie Cammann, Rod's daughter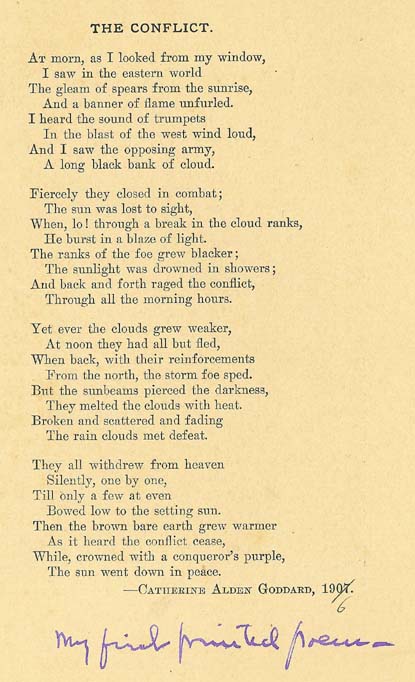 ---
One Pulse
Last night the stars hung over head,
Only two stars of all the Dipper's seven,
As I lay floating, floating in the lake,
My face toward heaven,
As I lay thinking of the stir in leaves
That dream, that dream,
A million dreaming leaves along the bank,
A million moving fishes up the stream,
A million veins of sap in every stem,
Rootlets that push and push below the sod,
When suddenly the earth, the trees, the sky,
The rippled fishes, and the lake, and I
Were all one pulse within the heart
Of God.
A tender tremor unto life, to life,
And love of every living thing that grew.
Floating below the Dipper's misty stars
In sheer delight I lay,
And thought of you.
---
I did not seek you for an argument.
Leave it to those who must.
I pour not wine out to the long dissent
of capitol or labor:
To the drift
Of theories no man may wholly know--
Or wholly trust,
Set upon sands that settle slow
Or swift.

I did not seek you for the sacrament
I took long since in faith.
That bread is broken and that wine is spent
Before the face of death

Over the shoulder of the hurrying years
The rising winds are due.
I sought you for companionship,
And comfort's crumb or two.
Let's dine no more on bitter herbs,
And drink no more of rue.
---
TO H.L.A.--------------A BILL OF RIGHTS

Question no more my constant love of you.
Of all the living past, what debt is paid?
Our yesterdays divide.... they bind as well.
The present by the past is underlaid.
Not if you wanted to could you untwine
The meshes of yourself that yet are me!
Or tear the tissue of our lives apart,
Or from each other set the other free.

Bound by the steady circuits of the sun
These rich and ranging years,
In jest and journeys, whispers in the dark,
Pleasure and patience, angers, joy and tears.
Nor do I think that death us two shall part
"God gave us to each other" -- and gives still.
And other gifts of other loves to each.
Have made that promise surer to fulfill.

Ask me no more if my true constancy
Shuts out the warmth of other fires than this:
The wave-lengths of the human heart stretch wide:
And every sun may every other kiss.

What holds - what ever held - a living soul
To any other thing in unity
Save its own sure, spontaneous response? -
Of nothing less is my fidelity.

We are as free as every wind of heaven -
And we are bound as every flower to light.
Of my own will my love to you was given.
The right to love you free my only right.

As free to love the whole wide universe,
And out of it whatever love shall send -
As love sent you - for better or for worse,
Forever and forever without end!


Catherine Aller
to
Howard Aller
---
AGED-in-the-WOOD.
Poem by Catherine Goddard Aller

I'd like a little place for lying down
If I grow old,
A low and little couch of green or brown,
And from good cushions, red, blue, black, & gold.
The winter evenings would be luxury!
But now - the chairs are all too big -
For me!
I'd like a little couch before the fire.
I'd banish the gloom
With softened lamps, or bright,
As we desire,
In that warm room,
Book lined—Aged – in –the –Wood-
That suits so well our older, calmer blood.
I'd like your special chair of yellow leather
No further off than out stretched hand can touch.
We'd read our books and magazines together,
And play the games we play so long, so much-
I'd keep my cozy, velvet slippered feet
Tucked under me, to make a higher seat.
You must have slippers make of soft morocco,
A lounging suit, a perfect reading lamp,
A jar of cloissenay for your tobacco,
To keep it just the right degree of damp—
We will be very quiet, If you choose,
Or you may read aloud the daily news.
And I can see our amber light that flashes
Our tinkling Sleigh bells of the taller size,
And I can see the steady fall of ashes
In both our ash trays rise,
And in the wood box, or the fire things,
A cricket sings.
& sometimes I'll lie and read
Sometimes I'll sit
Depending on the temporary need-
Sometimes I'll write – or sometimes I will knit
And if it's cold, to make my comfort full,
I'll have an afghan made of colored wool.
If all these pleasant dreams –
(But dreams as yet) –
Your fancy please,
There some things we'll have to get
For all this Ease.
The starting point of all of it, you see
Was this:
THE CHAIRS ARE ALL TOO BIG FOR ME.
---