Rodney Goddard Aller
October 16, 1916 - March 21, 2005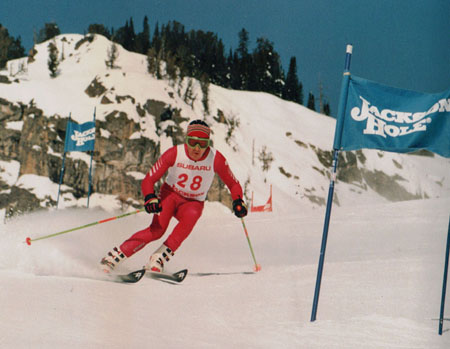 April 27, 2012
The legendary broadcaster and Ski Hall of Fame member, Lowell Thomas told me that he was up in Shawbridge, Quebec in 1933 and, upon hearing of a new contraption that would haul you up a hill, went to investigate. There he found the first rope tow ever invented which became the proto-type copied in Woodstock, famed as the first rope tow in America. There were three people skiing on that tow that day, Roland Palmedo, Chris Young, and Rod Aller. All three were members of the Amateur Ski Club of New York. The Ski Hall of Fame Library is of course named after Roland. Chris Young made the 1936 ski movie classic, "Dr. Schlitz Skis Mt. Washington" (and won the Cannes Film Fest. In '48 & '49) while Rod many year their junior, formed and captained the ski team at Princeton. More to the point, he spent a life living the ideal that Roland Palmedo expressed when he formed the Amateur Ski Club in 1931… the year Rod joined. The philosophy was parallel to the thinking of Sir Arnold Lunn. A gentleman (or Woman, Hall of Famer Alice Damrosch Kieir was the Amateur Ski Cub's co-founder), pursued skiing for their love of the sport. Sport was it's own reward. Like the Club he help form Rod Aller skied with pure "geist".

The idea of skiing as a business to profit from sullied the pure sport of it. It was in this measure that the Amateur Ski Club abandoned Stowe to "commercial interests" walking away from their single chair lift they had built there before the war and bought the land for Mad River Glen.

Rod Aller personified this old school ideal of amateurism and the pursuit of skiing just for the sport of it. He was truly a champion skier whose love of the sport infected generations of skiers he encountered over the years. He donated all his medals, some hundred of them to be given as incentives to the youngest girl and boy racers yearly in the Mad River Racing Clubs.
I will never forget being in the boot room on a dark 2004 January evening with the snow coming down and hearing a car come in. Wondering who could be coming in that late on a stormy weekday night, the door opened and in came Rod having just driven the 5 hours through the storm knowing he would have untracked snow that morning. After hearty hand shakes all around he quietly slipped off into the Bunk-room and was the first one on the slopes. He was 88 years old.
Rick Moulton
Keystone Productions
109 Moulton Drive
PO Box 97
Huntington, Vermont 05462-0097
Tel. 802 434-3629
Cell 802 734-7918
www.rickmoulton.com

On March 21st my dear father, Rodney, Died.

I visited him in early March after a weekend of skiing with family at
our favorite, Mad River Glen, in Vermont.

Our first clue that Dad was really sick came when he begged off from the
weekend with family and skiing . Two of his favorite things. He had
made the reservations at the Amateur Ski Club, and we all were looking
forward to the time together. Last year we had four generations skiing
together, and he took that occasion to offer some of his hundreds of ski
medals for redistribution to worthy kids after the club races!

Dad had been struggling with a "COLD" since mid January, and had been
to see his doctor several times, had some x-rays, etc.. In late February
he was too tired to make the trip and still not sure what was going on!

On Monday Feb. 28th we arrived in Lakeville, and found him very short of
breath. On March first I got him to the Sharon hospital,( the local
small hospital). They admitted him to the ICU and there he spent three
weeks in a valiant struggle with Pneumonia, flu, and it turned out a
fairly advanced case of Interstitial Pulmonary Fibrosis. We all were
very hopeful that he would pull through to ski again, but it was not to be!

Many family members gathered around him "to visit" for he was still
taking his vitamins the morning he died, and half an hour before he
told the doctor, "We've got to get rid of this stuff in my lungs!" He was all about
getting better!

He spent his last day surrounded by much family, and Nurses who loved
him... he was a model patient , squeezing our hands as he worked hard to
get enough oxygen. Talking in single words, and making jokes rather
often! He was with us and loving us all the way!

We had a memorial service in the Salisbury Congregational church and
filled the church even though it was Easter vacation and the Saturday
before Easter!

I am so grateful that he did not have to linger in a nursing home on
oxygen, which is what the doctors were talking about.
Also grateful for having a father who taught me to love the woods, be
aware of each and every bird, plant, and tree.
Loved to move through the world fast! On skis, rollerblades,
windsurfers, bicycles and sailboats! Never with a motor, always with
his own muscles!
Who loved words, The Earth and all of its beauty, ideas and discoveries,
loved a Loving God, and loved us.

Much love to you all, as I zoomed through my address book I wanted you
all just to know.!
I am doing well, and missing Dad lots!

Treasure each moment of this precious life!
And SHOW the people you love how much you love them!
Cassie
---
Dard, Connie and Cassie,
Hi. This is Mary Brunner Blessing, Connie's Mills College friend from California. I am deeply moved to read of your father's unexpected passing, and the many comments of love for this man who seemed bigger than life. I will always treasure my little visit to Lakeville in August, about 1973, when I actually arrived by train from New York City on my own, and your parents hosted me until Connie arrived. We enjoyed a few days at the lake, hiking, meeting extended family who came to a cousin's wedding, and a trip to the Congregational Church (perhaps the one that was overflowing for Rod's memorial service.)

Connie told me about your place in Vermont, and how your family had the opportunity to interact with the Von Trapp family....your charming father instantly reminded me of Christopher Plummer, who played the role of Captain Von Trapp in the movie version of Sound of Music. It seems so silly, but even today when I watch that beloved musical, I think of Rod Aller and his very talented family!! I'm sure you will all miss him deeply as you pass through the many "holiday" remembrances--I will especially pray for you tomorrow as you face your first "father's day" without him. (After my dad died, the first father's day without him was the most difficult day of all......)

I regret deeply that I have been out of touch with Connie for so many years--12? 15? But for some reason, this morning (Saturday, June 18, 2005) I woke up with a strong need to "google" Connie's name. What I got was this website with memories of Rod Aller. If anyone who reads this has an email address or phone number for Connie, will you please pass this message on to her, and my email: mary@saintjudes.org, and my phone number: 408-776-7575. I would like very much to contact her personally to share my condolences.

Your family was a very positive and important influence on me at a critical time along my spiritual journey. I thank God often that you were part of my life. I now wish to thank you again.

God bless you all,
Mary
(The Rev.) Mary Brunner Blessing
17541 Holiday Drive
Morgan Hill, CA 95037
(408) 776-7575

The Rev. Mary Blessing
Associate Rector
St. Jude's Episcopal Church
20920 McClellan Rd.
Cupertino, CA 95014
408-252-4166
www.saintjudes.or
Greetings from the Big Island of Hawaii. Your very gracious words and amazing memory of Rod is deeply appreciated on this eve of Father's Day. I am here with all of my kids (3) from Israel, California and Oahu, having just spent a day windsurfing, spear fishing and celebrating Rod's life with a Cheese Fondue, circa 1960s.
Dad is, was and always will be a treasure, bigger than life, distant in some ways because of an ethical and historical stoicism that escaped intimacy, yet encircled us in a security of wisdom and unquestioned support that inspires loyalty.
Connie is at
constancedraper@yahoo.com
I have forwarded your e-mail to her. She will deeply appreciate your support at this time.
Mahalo,
Dard
---
I was saddened to learn recently of Rod's passing. I only met him on a few
occasions at the Connecticut Senior Winter Games. A few years ago, a fellow
racer named John Turner was competing with me at Ski Sundown and we were
astonished to be beaten by a man thirty years our senior! We got in the
chairlift line with Rod and I recall asking "Who are you?" and "What's your
story?"

During the slow trek to the summit he told us about his background in the
sport. As I recall he told us that Princeton's Ski Team was Nordic only
(cross country and jumping) back in the thirties and he helped introduce the
Alpine events (Downhill and slalom). He didn't mention his extraordinary
accomplishments later in his career.

I had the good fortune to have a chat with him at lunch after the 2004
games. He had a resonant voice and the sort of personality that you take an
instant liking to. As usual, he swept the gold medals that day and I
snapped a picture of him with his medals. It's posted online at
http://www.mtlski.com/images/rod.jpg

I've been fortunate to meet many memorable characters in my life. Rod
certainly fell into that category. I only wish we could have had a few more
races together.


Pat Moore
Newington, CT
---
Three years ago just about this time of year, celebrating yet another
InterClub Race victory, Rod Aller sat down very quietly with a
jubilant group of ASCNY racers, (including himself, 60+, 1st place).
In front of a warming ASCNY fire and a mounting table of potluck
supper, he unexpectedly and unselfishly opened up his Princeton "bag"
of medals and began draping them, one-at-a-time, around a bust of Abe
Lincoln. Curiously, we all gathered around as he announced his
intention to donate his entire lifetime of alpine achievements to the
Club, along with his bust of Abe Lincoln. As he said, Abe was his
idol, in life and spirit. It was a very special ASCNY moment, the kind
you will never forget. I'm so happy to have been there.

Rod gave the dinner toast that night and gave thanks for, (as
I remember it), having his extended family with him for the week,
Cassie, etc.), all the way from CO(?), the ASCNY, and for seeing all
the young children of the Club enjoying the pleasures of their skiing
accomplishments, no matter what their skill level. He asked that we
give out his medals to all the young children of the Club in the
future; again, no matter what their skill level. There were few dry
eyes in the room. I spoke to Cassie afterwards. She and her young
family took a few token medals for keepsake and asked that we respect
her father's wishes.

Accordingly, we started giving out some of those medals this past
year during the annual awards banquet to the young kids. (Sample
picture attached of US Eastern Amateur Ski Association attached -
Gold, naturally. Rod had very few silver or bronze medals). By rough
memory, there are some 40-50 medals left in inventory. Abe sits
appropriately atop the trophy case.
Rob Young
---
My four-year old son Scott received an Aller medal in February after
making it down through the giant slalom gates between my legs. Let's
certainly create an appropriate annual award in the name of Rod Aller.
Scott A
---
About eight years ago .... I was up at the club with a bunch of friends
(Bobby and Brooks included) in early December to get the cob webs out.
There was an early December dump going on. At eleven o'clock Rod
walked in. He was on his way, alone, to a masters race in Stowe and could not
finish the drive. He grabbed a cold beer out of the keg on the porch, and
sat down and played backgammon with us until two a.m. He was gone in
the morning. I got a thank you post card a few weeks later for the "hops and
hospitality". He touched and inspired everyone he swept by. God bless him.
Newt
Dear Anne,
Do you remember me? I spent a very special week with you at the
Drifters about 20 years ago. Although I haven't seen you in a long time,
I always enjoyed Rod's good spirit and friendliness whenever he was at a
race; he is missed by many now. John Woodward gave him a very
thoughtful, gracious and sincere tribute at the first award ceremony at
the Masters Nationals in Big Sky, MT. in late March. Rod was in the
hearts and minds of many of us as we raced - for challenge and love of
the sport as Rod would have done.
Love and regards to you and your family,
Wendy Hill
I am a youngster/ current Trustee at Mad River and crossed ski poles on
occasion with Rod. Just last year he was up to ski for the Club
(Amateur) in the inter club race. He drove himself up and was staying
in the bunk room and could beat me in the gates!

When I was making Legends of American Skiing in 1981 Lowell Thomas
described meeting Rod in the winter 0f 1933-34 when he came upon the
1st rope tow in Shawbridge, Quebec. Three people were using it. They
were all Amateur Ski Club members, Chris Young, Roland Palmedo and Rod
who was the freshman Captain of the Princeton Ski Team...

An Alpine Ski Pioneer, he was more then just a witness to the birth of
ski sport...He helped shape it. T'was an honor to have known him

Rick Moulton
Keystone Productions
PO Box 97
Huntington, Vermont 05462
Tel. 802 434-3629
Cell 802 734-7918
www.rickmoulton.com
---
We should all be so lucky to go out a year after winning the world
masters title in the 85+ age group!!!
Alexander D. Walker III
With every sympathy and best wishes to all. It was a privilege to know him, even just a little.
Sincerely,
Brooks Ware
Amateur Ski Club of New York
---
Rod Aller was a hero to all of us who skied with him, and a friend to
those of us who were privileged to really know him. He relished the joys
of the outdoors, of his family, and of his friends. I gave him one of
my astronaut pins after we shared a room at the Master's Nationals in Big
Sky. He said he wore it regularly to his legal meetings to catch people
off guard.
My son Eliot and I recall the day at Vail when, between race days, we
went into the back bowls as soon as the lifts opened, only to find Rod
coming up after already having made first tracks. By 1 o'clock Eliot
said "Dad, he's not even going to stop for lunch." And he didn't - he
just kept turning, telling us about the origins of the Princeton ski
team, and smiling all day.
A gentleman we will all miss.

Larry Young
Cambridge, Mass.
Web Page
---
Dear Cassie, Connie and Dard:
This is truly, in so many ways, the end of an era. Not only of our (Lornaís, Davidís and mine) parentsí generation in our lives, but of a time of adventure, bravado, humor and style that, for me, was always distilled in your father. As a young boy visiting his grand parents, I can vividly recall the gusto, charm and good humor with which Rod always greeted me Ė daily while I was there, not just on the occasion of each trip. The sense of being included, whether it be swimming, sailing, fishing or, that one memorable winter we lived in Lakeville, skiing and skating. As a gown man Ė and more recently, as an old one! Ė I always looked forward to the hail from the lake, or the ďHowdyĒ from the front door at Lornaís, when Rod would drop by to visit. Never have I encountered so much interest in and fascination with each little thing that was going on, no matter what it was. During my last visit, in July last year, I have a vivid memory of his coaching me through the process of installing a garden hose reel on the side of Lornaís house Ė being interested in how they had designed a way to keep the hose from crimping at the fixture end, and made the reel removable for winter storage. I could go on and on. I do wish I could be there with all of you to celebrate his life; I will miss him, and yet I will never be without him, such was the vigor of his presence.
My best love to all of you!
Dick
We/ the Amateur Mad River Community are pretty late coming up to speed
on Rod's passing. Quite a shock really because he was such a force. He
brought us all his medals from Masters racing and as asked if something
could be done with them to encourage kids in the club to race...
Perhaps we should have sportsman/person award in his memory...
It was Master Race Champion Lisa Desmore who notified me... I am sure I
will continue to offer steams of conscious in the near future but I am
heading out for Mt. Washington and a Tuckerman's adventure for the next
few days...
Rick Moulton
Keystone Productions
PO Box 97
Huntington, Vermont 05462
Tel. 802 434-3629
Cell 802 734-7918
www.rickmoulton.com
---
Dear Cassie, Connie and Dard,
It's almost impossible to believe that Rod has passed on. I had known from Lorna and Dard that Rod was not well and was in the hospital, but Rod was such a stalwart soul that his passing just seems inconceivable.
This was the man who tore around the lake while ice skating with me on his shoulders, who blew pipe smoke in my face to keep the mosquitoes away while we were climbing who-knows-what mountain, who taught me how to catch sun fish down at the lake, whose deep, resonant voice epitomized sagacity and wisdom, whose humor, especially with his siblings, was unmatched, and who raced a giant slalom what, two years ago?! I still recall stories Mom used to tell about both Rod and Hal that made them almost of hero proportions in my mind. And the fact that he used to go to Europe to ski, not returning usually until he had broken something, didn't escape my attention either. A man's man.
And yet Lorna has told me of her grandchildren's love for Rod and their absolute assurance that he loved, even cherished, each of them. She told me of Mady running into the house upon arriving from Ann Arbor at the age of 6 and telling Lorna she had to call Rod right away to let him know she was there. A young girl's man.
I do wish I could be with you all in Lakeville for the celebration of Rod's life. He is loved by many and he blessed all he knew. Not a bad way to be remembered!
---

On behalf of all the members of the Salisbury Rotary Club I join in the celebration of the life of our close friend, Rodney Aller. Rod was a founding member of the Club back in 1949, was a past-President and remained an active member for all of his life. We already miss him very much.
Ron Jones, President

---

Dear Dard,
Thank you for making this splendid memorial available for us. The address is in my "Favorites" list and will be well used.
Rod was my mentor guiding me in the enjoyment of activity on the lake: skate sailing, iceboating, windsurfing, sailing, usually in the form of a race. I was ready to stop all this two years ago, but not Rod. I'll still look for him to whiz by calling for me to join him.
With love,
Bill and Adie Pulver

---
I have added the link for Rod's obituary/memorial to the NEMS web site (New England Masters Skiing). He was a great man and will surely be missed by all.
---
Dear Family (especially Mom, Connie, and Dard),

Where to begin? I guess I just want to express my feelings empathy for the sorrow you have surely been feeling. Iíll miss Grandpa too. Itís times like these that Iím really grateful for the Gospel knowledge Iíve been blessed with that lets me sleep soundly knowing that Iíll be able to embrace Rodney again, even if it wonít be in this mortal state.

When I was 14 years old, and was sure that I was a cool guy, we went on a family trip to see our relatives in Lakeville. Because there wasnít a lot of room in the small guest house, John Mark and I took Rodney up on his invite to come down and sleep at his place, with the promise of a good breakfast and a refreshing, early-morning swim in the lake. As I said though, I was a cool guy. And waking up extra early to go swimming in a dirty lake wasnít a very cool thing to do. So I thought ahead and deliberately forgot my swimming trunks. When Rod woke as up at six for the swim, I informed him that I wonít be able to swim, being as I had forgotten my swimsuit. But what was my chagrin when he told me that such gear would not be necessary. He threw us our towels and bade us follow. And we did. We made it down to the lake with only our towels to save us from our nakedness. As John Mark and I exchanged a few awkward glances Rod rocketed into the Lake, fully nude. I told my John to look one way. I looked the other. Then we dropped towel and skinny-dipped with Grandpa. Getting out was a little challenging too, but that day I learned that even cool people could go swimming naked in a dirty lake.

Love,
Anziano Draper
---
Hi Dard!
Nice job on the web site! My mother forwarded it to me.
We are all still telling Rodney stories almost daily and sat around watching summer videos this weekend. Julian (my 15 year old, Johnny Depp-ish stepson) went to school today wearing one of Rodís ties.
Thinking of you and yours,
Love,
Kate and the Clinton Lesse crew
---
Dard:

I don't know if you will get this before you leave, or while you are there,
but know that my thoughts are with you and your sisters. I have said
farewells to my father twice in the last year, so anything is
possible. Each time it carved a little deeper and there is nothing to
patch the deepening hole. Ultimately it will become a chasm and only the
echoes of my own voice will return to me. I really do understand. And I
know that there is only a little consolation reminding you how well your
father has lived and what an inspiration he is and has been to us young bucks.

I hold Rod in my memory. I can see him at the Mad River house and still
hear him singing a bawdy ballad in a deep baritone to meet the challenge of
the rugby songs Bruce Thompson was leading. I still see him throwing his
poles up in the air as you shredded bamboo in your finest slalom run,
crying out, "Thatsa my boy!" I think we may even have gotten him to
torpedo a beer, but he probably had too much dignity to crush the can on
his head.

Cam
---

Hello Dard- Your father took great pride in being one of two surviving founding members of the Salisbury Rotary Club and as recently as last January was working on a multi-Club ski outing. He is already much missed for all of his charm and talents. I was happy that more than half of the Club members came to the very moving memorial service.
In addition to our Rotary ties I had the pleasure of chatting with him most every Sunday at the Congregational Church - everything from Princeton, Yale Law, our experience as lawyers, our times in the West, to the current issues of the day. On top of that, a few years ago we figured out that we were sixth cousins, going back in the Goddard line. I personally miss him. Ron Jones
---
Sad News: Alpine Skiing Master's icon Rod Aller passed away on March 21, 2005 in Connecticut

---
Archives
5/14/2002

Rod, Going fast is easy; it's stopping that's hard. So Don't.
Congratulations! (on winning the World Alpine Championship)

Cam Walker
Princeton ' 72
Rod Aller Memorial ~ World Alpine Champion ~ Rod's favorite poems by Catherine Aller ~ The Aviator ~ RGA Family ~ The Skier ~ River Rat ~ Naval Officer ~ The Iceman ~ Dad's Advice ~ The Lawyer ~ Gallery I ~ Gallery II ~ Guest Book~ Send Photos ~ Weddings ~ Mad River ~ Termas de Chillan ~ The Goddards ~ Mountains ~ Princeton